Biography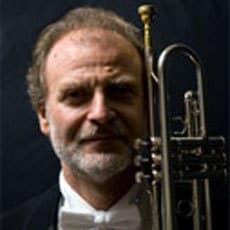 Born in Corfu in 1952, Sokratis Anthis studied trumpet at the Mantzaros Philharmonic Society under Thanasis Voyatzopoulos, and at the Hellenic Conservatory under Dimitris Kafyris. He graduated with the highest class of diploma and the first prize.
Since 1975, he has been an active participant in major musical events in Greece and has performed on a number of recordings for Greek radio and television.
He has played, mainly with chamber music orchestras, in almost every European country, and in many outside Europe. He worked closely with Manos Hadjidakis for twenty years, playing at all his concerts and on all his recordings.
As a soloist, he has performed with the Athens State Orchestra, the State Orchestra of Thessaloniki, the Municipality of Thessaloniki Symphony Orchestra, the Greek Radio and Television National Symphony Orchestra, the Leipzig Radio Orchestra at Gewand House, the Pleven Orchestra in Bulgaria, the Orchestra of Colours, the ALEA III Orchestra in Boston, the Marsyas Chamber Orchestra, the Patras Orchestra, the Stuttgart Chamber Orchestra, and the Camerata Friends of Music Orchestra. He also performed as a soloist with the Camerata, the resident orchestra of the Athens Concert Hall, in the joint production with the Hamburg Opera of the ballet Odysseus, choreographed by John Neumeier and composed by George Couroupos.
He was principal musician in the Greek National Opera Orchestra between 1975 and 1990, the Athens State Orchestra between 1980 and 1991, and the Greek Radio and Television National Symphony Orchestra between 1976 and 2003. He remains principal musician in the Orchestra of Colours.
He is a founder member of the Mantzaros Chamber Music Orchestra and the Melos Brass quintet, with which he has also recorded.
He is a member of the judging panel for international competitions for the European Union Youth Orchestra and the Mediterranean Youth Orchestra.
He has collaborated with the music department of the Ionian University and he has taught for more than two decades in the National Conservatory and the Philippos Nakas Conservatory.
From 2003 he has established together with Melos Brass the annual Ionian Summer Academy in Corfu, and he have cooperated with internationally acknowledged soloist and professors such as: T. Dokshizer, Ch. Lindberg, Michel Becquet, Fritz Damrow, Chris Martin, Jens Bjon-Larsen, Ben Van Dijk, Bo Nilsson, Walter Hilgers, James Thompson, G. Jones, Jay Friedman, H.Halien, H. Macdonald, L. Benucci,Jorgen Van Rijen, Canadian Brass, German Brass, Mnozil Brass.
As of 2008 he and Melos Brass have the artistic direction of the annual Brass Festival at the Athens Concert Hall.