FEATURE
The Absolute Formula to Expressive Drums
We designed the new Absolute Series drums with two points in mind. First: to develop a shell that has as wide an expressive range as possible; and second: to create a drum that faithfully reproduces every nuance in your playing— from a tap to full stroke. In other words, to craft a drum that delivers the tonal consistency and volume you expect in relation to player input.
To address this, we first developed a unique shell formula that responds accurately to differences in the way the drum is played. Then we focused on eliminating as many of the tone-inhibiting elements in the shell as possible. At this stage in development, the shells went through a critical evaluation process of over three years with our great artists and professional recording engineers. They also underwent detailed acoustic analysis by a special team of acoustic engineers. This advanced level of research and development, a trait we at Yamaha are proud of, led to three significant features that are being introduced with the new Absolute Hybrid Series.
Hybrid Maple Shells
The new Absolute Hybrid Series inherits the hybrid shell technology found on our flagship PHX Series. On Absolute Hybrid shells, the design consists of a core ply of wenge a very hard and heavy wood native to Africa, sandwiched between plies of maple, well known for its clear tone. This hybrid design delivers a drum tone that plays rich and clear across the full dynamic range, from pianissimo to fortissimo.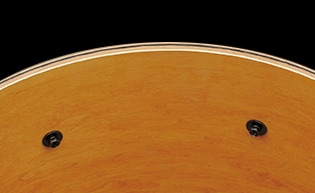 YESS III Tom Mount
An evolutionary step up from our YESS IIm tom mount, the YESS III reduces acoustic dampening even further. Allowing the shell to vibrate more freely, the YESS III mount brings out more of the shell's natural sustain and volume.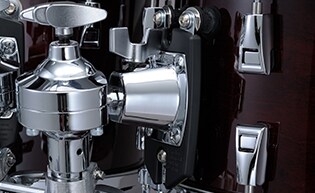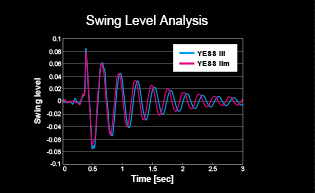 YESS III mount realizes longer sustain level, because it holds shell more flexibly, makes shell swing slower than YESS IIm and not prevent natural sustain.
Bearing Edge Shape
The bearing edge angle on the bass drum differs from the angle used on the tom and snare shells to optimize tonal balance in the drum set. A 45°/R1.5 edge is used on the snare and toms to a balanced tone; while a 30°/ R1.5 edge on the bass drum shell brings out more low-end tone for a deeper, more powerful sound.
Hook Lugs
Hook lugs offer quick and easy head replacement, precision tuning, and can readily handle high-tension tuning. Lug bases are designed with a small footprint to maximize tone output from the hybrid shell.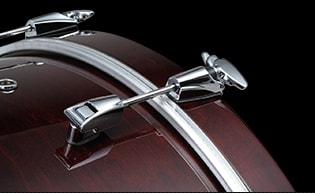 More Details