AG/MG Series | USB Audio Interfaces/DAW | Yamaha Commercial Audio
USB Audio Interfaces / DAW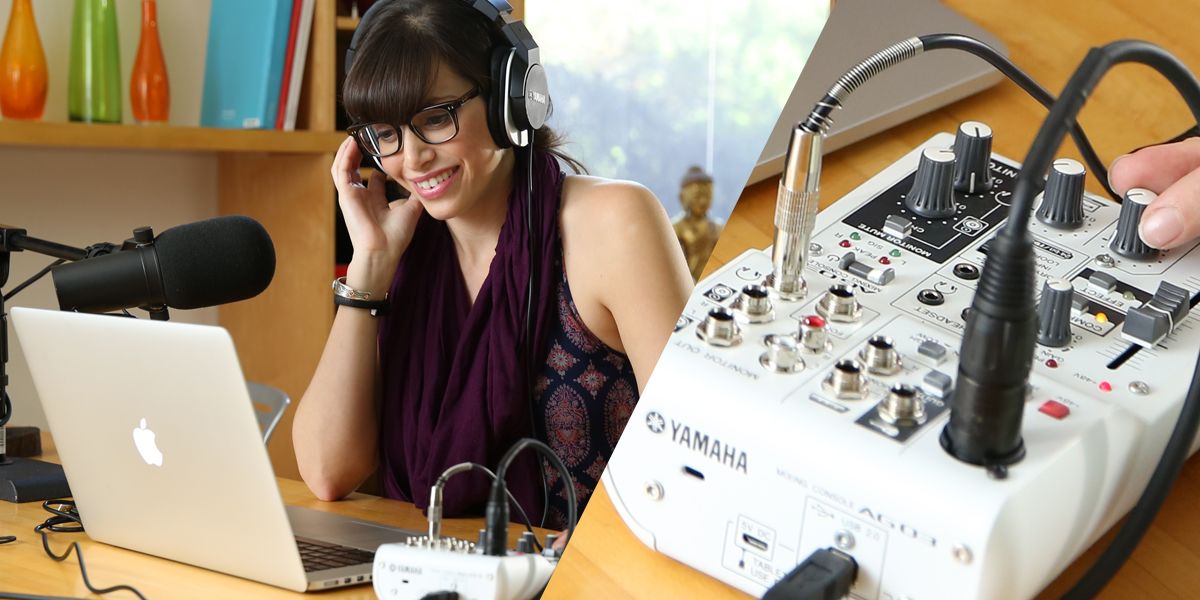 Ready to share your musical creations with the world? The AG/MG series mixing console is an ideal tool for fast and easy production of musical content for live streaming sites like YouTube LIVE, online lessons in real time, or creating video or audio podcasts offline.The studio-quality sound will give your content a professional edge to win over your audience and increase your fan-base.
Phantom Power and a Hi-Z switchable input allow you to connect a variety of microphones, instruments and external audio players directly into your console.
High resolution (192/24bit) playback and recording
High-resolution sound reproduces every subtlety of your performances and recordings with flawless fidelity and accurate imaging, ideal for music production, mixing and broadcasting, as well as high-definition listening.
LOOPBACK function for internet live streaming
The LOOPBACK function enables live broadcasting of all the microphones, instruments and other audio sources along with background music from your PC / Mac or iPad.
Streamlined but powerful music production software
(AG Series and MG XU model)
AG Series and MG XU models are bundled with downloadable Steinberg's Cubase AI software. As one of the most advanced, comprehensive DAW suites available, Steinberg's Cubase has led the charge, providing users with a powerful and flexible platform for music production.
Multitouch Sequencer for the iPad
(AG Series and MG XU model)
Cubasis LE is available in the App Store. You just need to connect your iPad to an AG/MG-XU to make it work. Cubasis LE is Steinberg's streamlined, multitouch sequencer for the iPad. *Apple iPad Camera Connection Kit/ Lightning to USB Camera Adapter and USB mobile battery required.
Additional control of DSP settings
(AG Series only)
COMP/EQ will hone your tone while EFFECT adds ambient reverb, and AMP SIM delivers a classic, warm tube amp sound that will satisfy even the most discriminating guitar enthusiasts.
Model

AG06

AG03

MG12XU

MG10XU
Input Channels
Mono[MIC/LINE]
2 including HEADSET MIC (Plug-in Power)
1 including HEADSET MIC (Plug-in Power)
4
4
Stereo[LINE]
2
1 including Guitar input (Mono)
4
3
AUX
1
1
-
-
Output Channels
STEREO OUT
1
-
2
2
MONITOR OUT
1
2
1
1
PHONES
2 including HEADSET PHONES
2 including HEADSET PHONES
1
1
AUX SEND
-
-
2(incl FX)
1(incl FX)
Group Out
-
-
2
-
BUS
Stereo: 1
Stereo: 1
Stereo: 1, GROUP: 2, AUX: 2 (incl. FX)
Stereo: 1, AUX[FX]: 1
DSP
CH1: COMP / EQ, EFFECT (SPX Reverb) ; CH2: AMP SIM, EFFECT (SPX Reverb)
CH1: COMP / EQ, EFFECT (SPX Reverb)
SPX algorithm: 24 programs, 1-knob compressor, PARAMETER control:1, FOOT SW:1 (FX RTN CH on/off)
SPX algorithm: 24 programs, 1-knob compressor
USB
USB Audio: 2 IN / 2 OUT, USB Audio Class 2.0 compliant, Sampling Frequency: Max 192 kHz, Bit Depth: 24-bit
USB Audio Class 2.0 compliant, Sampling Frequency: Max 192 kHz, Bit Depth: 24-bit
Power requirements
USB bus powered
USB bus powered
AC 100–240V, 50/60Hz
AC Adaptor(PA-10)
Bundle software
Cubase AI/AG DSP Controller
Cubase AI
Dimensions(WxHxD)
155 x 63 x 202mm
129 x 63 x 202mm
308 x 118 x 422mm
244 x 71 x 294mm
Net weight
1.0kg
0.8kg
4.2kg
2.1kg
AG/MG Series | USB Audio Interfaces/DAW | Yamaha Commercial Audio