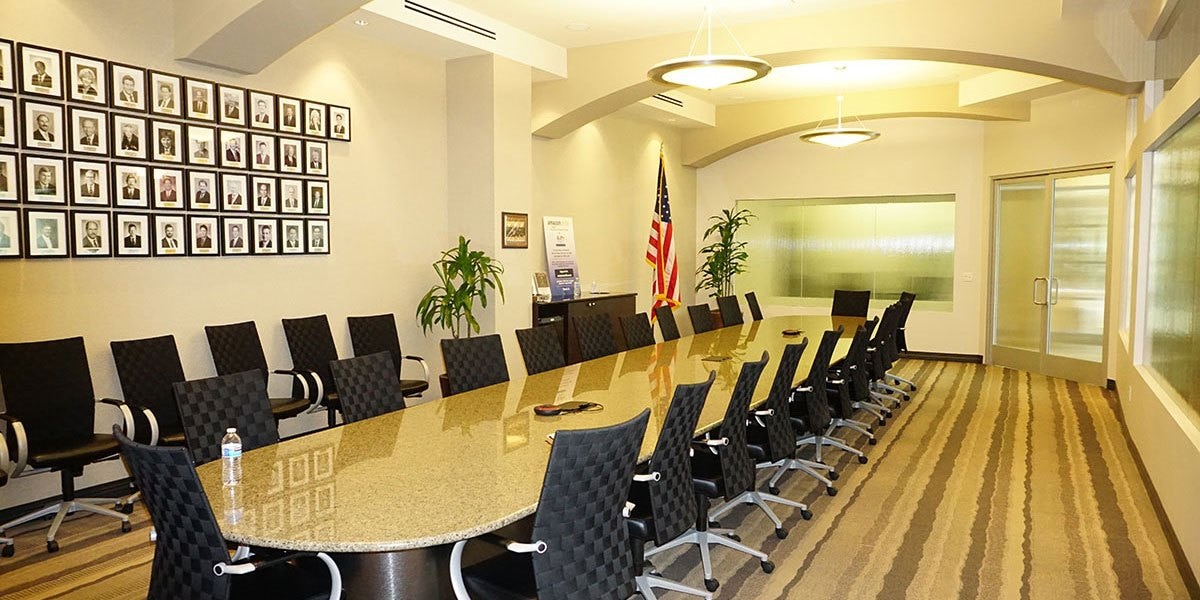 The Building Industry Association of San Diego County (BIA) represents the thousands of employees responsible for planning, designing, and constructing buildings in the greater San Diego region. The BIA creates forums for decisions that affect the ability to build and develop in San Diego County, provides a platform for effective networking, and seeks to enhance industry credibility as a positive agent of change in the community.
As an association of builders, their corporate headquarters is, unsurprisingly, a work of architectural art. However, the unconventional design of their biggest boardroom has created a challenging environment for their committee meetings. A typical committee meeting includes a group of committee members joining in-person and builders joining remotely. The "Big Room," where committee meetings are usually held, features a long, 40-foot by 19-foot table and curved ceilings with curved beams breaking up the room.
Audio Issues in the "Big Room" Boardroom
The boardroom's conferencing system was comprised of outdated cameras and audio piping in from phone lines. The audio set up led to a myriad of issues, including all in-person participants crowding around one speakerphone, people talking over each other, remote participants unable to hear in-person participants due to the distance from the phone line to the monitor (and the sheer length of the room), and failed projection of remote participants.
To resolve these conferencing issues, the BIA brought in Glenn Shultz from Shultz AV. Shultz has been in business for 11 years, installing AV solutions for a range of applications, from custom home builds to commercial entities. After seeing the room and understanding the issues, Shultz recommended Yamaha's ADECIA Ceiling Microphone and Line Array Speaker Solution.
The results? In a word: Success.
"The ADECIA system completely changed the whole dynamic," said Shultz. "Now, whoever is speaking is heard clearly on both ends — those joining in-person and those joining remotely."
Yamaha's ADECIA to the Rescue - Solving Audio Challenges in Conference Rooms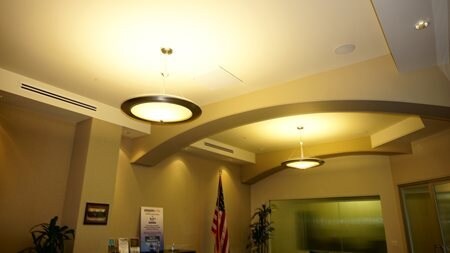 The full Yamaha solution included one RM-CG ceiling microphone, one RM-CR signal processor, one network switch, two line array speakers, and two RM-TT tabletop microphones. Though the room fits up to 40 people, only one ceiling microphone is needed to amplify all voices. Two line array speakers provide ample, equally-distributed sound across the long conference space. As a result, the sound is not too loud in the front, nor too quiet in the back. Lastly, the two RM-TT tabletop microphones serve as stylish, easy-to-reach mute buttons. Because meetings can sometimes involve side conversations and private comments spoken by participants in the room, they're a convenient and practical solution.
"The ease of use of the products and how they auto-tuned to the room really made the installation run very smoothly," said Shultz. "Plus, the fact that all you need to run it is one network wire is a huge selling point."
From the user perspective, they can quickly and easily log onto their Zoom or Teams account from the room's dedicated, hidden laptop. To ensure everyone knows how to operate the room, a simple instruction sheet provides direction and eliminates the need for any oversight.
"Different committees come in and use this solution, so the fact that there's no need for someone to come in and show them how to use it is a huge benefit," said Shultz.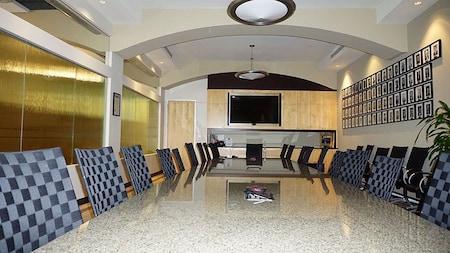 The solution also included a Huddly Camera and a Barco Clickshare 50, further improving conferencing quality through video and ease of content sharing. "Because ADECIA is device and platform agnostic, it gave us more options to create a successful solution," said Shultz. "It really is quite the showpiece."
Overall, the Building Industry Association's "Big Room" has been significantly upgraded thanks to Yamaha's ADECIA. Meetings are more productive, committee members are more eager to use the room for remote conferences, and poor audio is no longer an issue.
"With new products, there's always glitches, there's always something. With ADECIA, there wasn't anything," concluded Shultz.
The Building Industry Association of San Diego County (BIA):