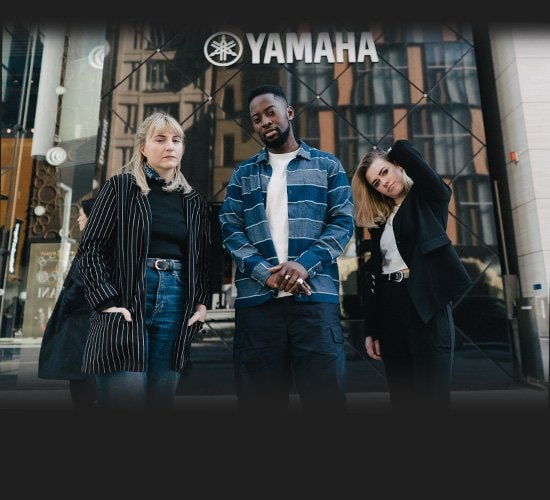 L'initiative de Yamaha envers les talents émergents met à l'honneur de nouvelles musiques et les artistes en devenir.
DOCUMENTAIRE
Une série documentaire suivant le parcours de six artistes émergents en provenance de toute l'Europe, se réunissant pour une expérience exclusive d'écriture de chansons à Barcelone. Tout au long de cette aventure, ils vont vivre ensemble dans une villa équipée d'instruments et d'un studio privé, avec la mission de collaborer, de créer de la musique et de se produire en live.
EPISODE 1: WRITING & COMPOSING
6 upcoming artists who haven't met before, arrive at the House of Talents in Barcelona. They form teams of two and start their mission to create songs in three days, leading up to a final performance of their work in an intimate concert. The first episode captures the beginning of this creative journey, from the artists getting to know each other, to start writing lyrics and composing melodies.
On the second day in the House of Talents, the artists get the chance to experiment with their tracks in the villa's home studio. Producer Jesus supports them with refining song layers and exploring new instruments. Yamaha artist Miki Santamaria pays a visit to support the new talents in their creative process.
EPISODE 3: FINAL PERFORMANCE
On the final day in the House of Talents the artists get ready to perform their individual songs that they have been working on the past days. In an intimate concert they showcase their results in front of each other.
DISCUSSIONS
Les nouveaux artistes de WAY UP se réunissent à divers endroits du monde pour parler de leurs expériences dans l'industrie musicale, de ce que le fait de s'exprimer à travers la musique signifie pour eux et de leurs progrès personnels dans le domaine musical.
UK artists JNR Williams and Wyldest from London meet with US artist Maggie Miles from Nashville. At the Yamaha Ginza Hall in Tokyo, the emerging artists share experiences in song-writing and how music empowers them to express their emotions and convey a message.
MUSIQUE
La playlist WAY UP comprend une sélection de musiques originales des nouveaux artistes présentés dans la série de vidéos WAY UP.
PODCASTS
WAY UP: HOUSE OF TALENTS est un podcast complétant le documentaire en trois parties sur les talents émergents de Yamaha. La présentatrice Parisa Tarjomani s'entretient avec certains des artistes qui ont pris part à une expérience exclusive d'écriture de chansons cet été en Espagne. Pendant cette expérience, Yamaha a réuni dans une villa à Barcelone des artistes en devenir en provenance de toute l'Europe, et met à leur disposition des instruments et un studio privé : un environnement idéal pour créer de la musique et collaborer. Les artistes, qui ne s'étaient encore jamais rencontrés, se sont répartis en binômes. Pendant trois jours, ils ont écrit ensemble des paroles, composé une mélodie et enregistré une chanson. Le dernier jour, toutes les équipes ont donné une performance live de leur chanson à l'occasion d'un concert intimiste. INSCRIVEZ-VOUS ET ÉCOUTEZ CE PODCAST DÈS MAINTENANT !