Retail Store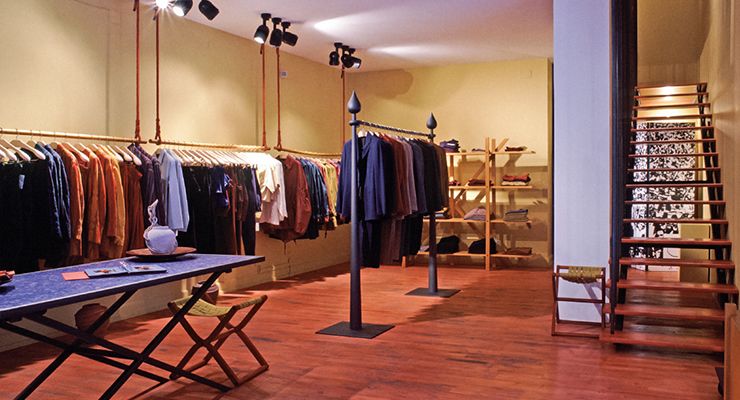 Retail Store
Different BGM to Different Zones, Plus Announcements
This system would be a good choice for a multi-level boutique or a restaurant that features a bar or lounge.
Background music is just as important as décor and lighting for creating a specific mood. Yamaha VXS and VXC series speakers provide high quality playback that delivers the full emotional impact of the music to the listening area, making a major contribution to overall atmosphere. The power and excitement of rhythmic music can be enhanced by adding VXS10S subwoofers.
The MA2120 would be a good choice for broadcasting announcements or advertisements while supplying different background music to different areas. It includes a Ducker function that automatically reduces the volume of the background music while a microphone is being used so that no manual adjustments are required. DCP1V4S control panels installed in the separate areas allow remote control of background music volume and other operations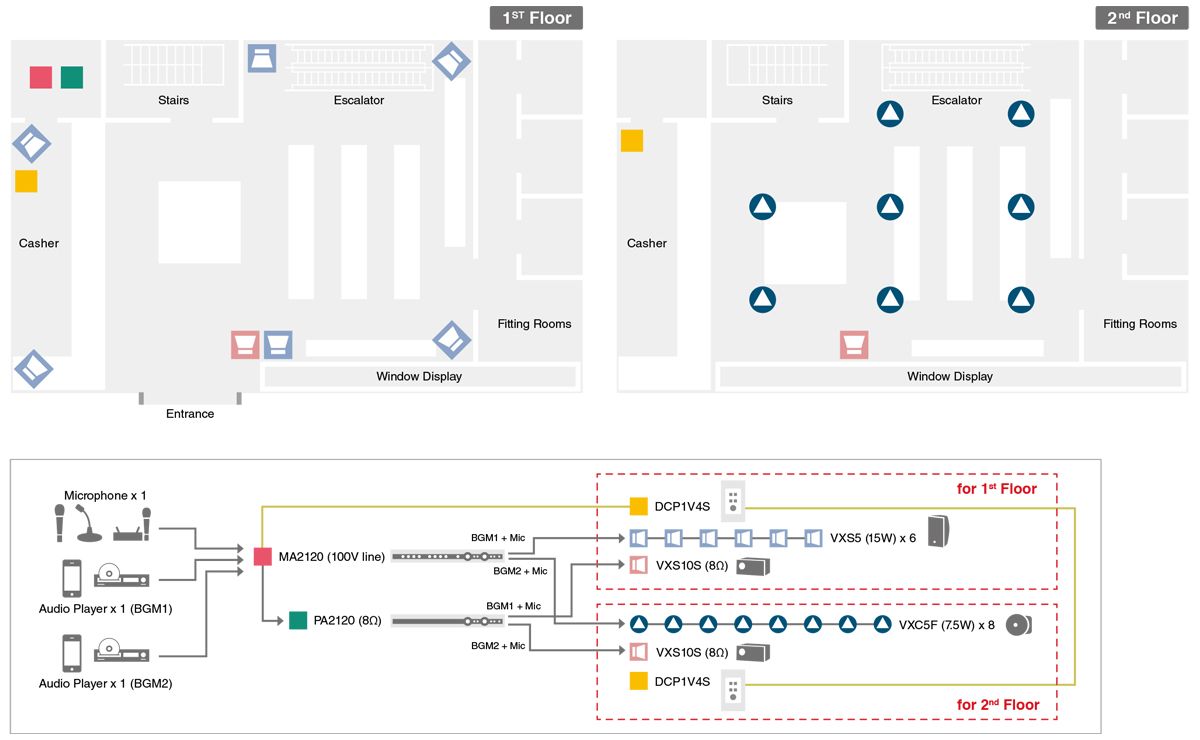 Construisez le système qui répond à vos besoins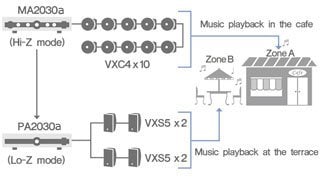 The MA/PA Series is capable of controlling input sources and volumes for two separate areas (source / volume zoning). For example, in an apparel store with the women's section downstairs and the men's section upstairs, or in a restaurant with dinner tables and a bar area, different background music and announcements can be delivered at different volumes to best complement the atmosphere of each environment.Because the MA2120 has two output channels, users can easily manage source/ volume zoning for two separate areas with a unit. (Please refer to System Example 4 and 5.) In addition to volume zoning, the rear-panel ROUTE switches enable input source selection for each area. Speaker output levels in both areas can also be matched via the DIP switch settings. For a larger space, PA2120 or PA2030a can be added to the system, expanding service areas with volume zoning. A MA2030a system combined with a PA2030a can cover two service areas with volume zoning. For example, as shown in the image, background music can be played inside a cafe at a low volume level while the same music plays at a moderate level for an outdoor terrace.
Remote Control from Optional DCP Series Digital Control Panel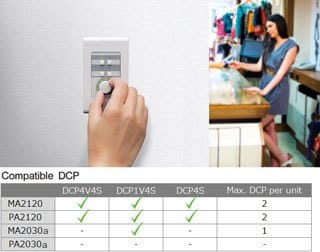 The optional DCP control panels* allow remote volume control, microphone ON/OFF switching, and triggering the built-in chime for announcements.
* DCP4V4S, DCP1V4S and DCP4S, up to two units in total, can be connected to MA2120 and PA2120. One unit of DCP1V4S can be connected to MA2030a.
MA/PA Series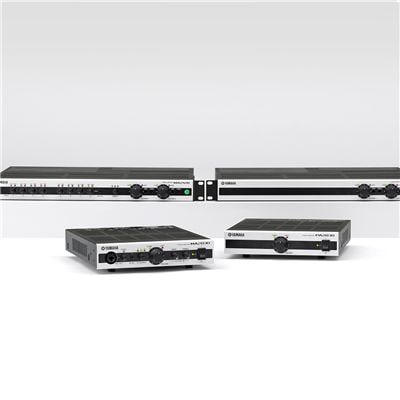 MA/PA Series
Lo-Z/Hi-Z switchable Class-D amplifiers that provide a smart simple audio solutions for any small to mid-sized applications.
VXS Series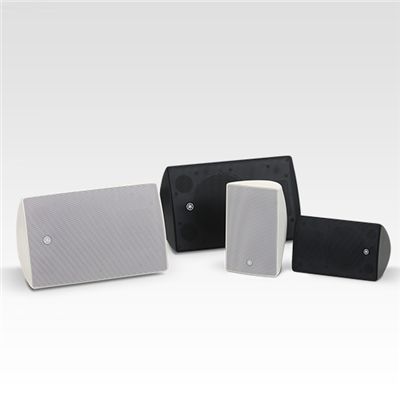 VXS Series
The VXS Series lineup features 2 models and 4 variations, allowing you to choose the optimal model for a particular application.
VXC Series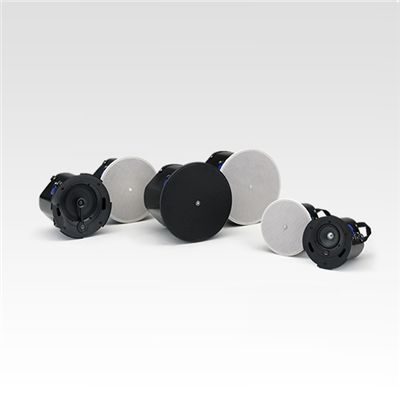 VXC Series
The VXC Series offers three different woofer sizes, allowing you to choose the speaker that is most suitable for your venue.
VXS Series "S model"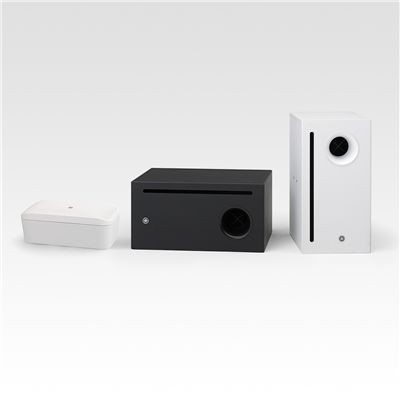 VXS Series "S model"