Presentation Room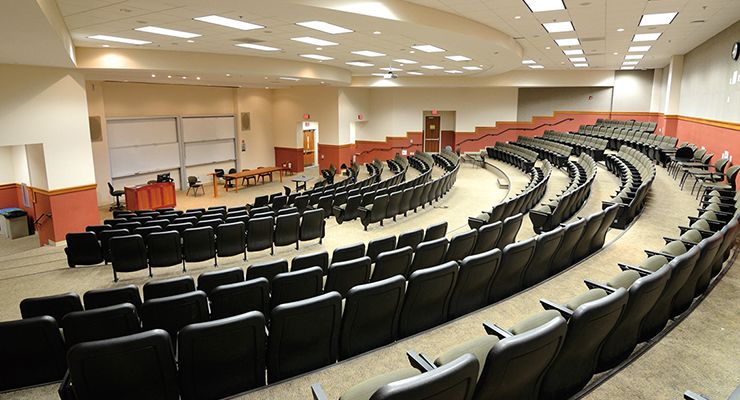 Presentation Room
Broadcast Presentations to a Second Room
The solution we propose for this situation is ideal for educational facilities, municipal halls, houses of worship, and more.
The MRX7-D and MTX5-D allow Dante audio networking over long distances with no delay or degradation in sound quality. If an appropriate setup is pre-programmed using the MTX-MRX Editor software, it is possible to broadcast audio simultaneously to all rooms by simply pressing a button.
The Dugan Automixer function built into the MRX7-D can be a huge advantage for lectures, panel discussion, or other situations where multiple speakers may use their microphones at unpredictable times. When active the Dugan Automixer keeps track of which microphones are being used and which are not, and automatically adjusts individual microphone levels so that the speaker can be clearly heard without being cut off or interrupted by feedback.
DCP4V4S control panels installed in each room allow remote control of audio source and microphone levels as well as on/off switching.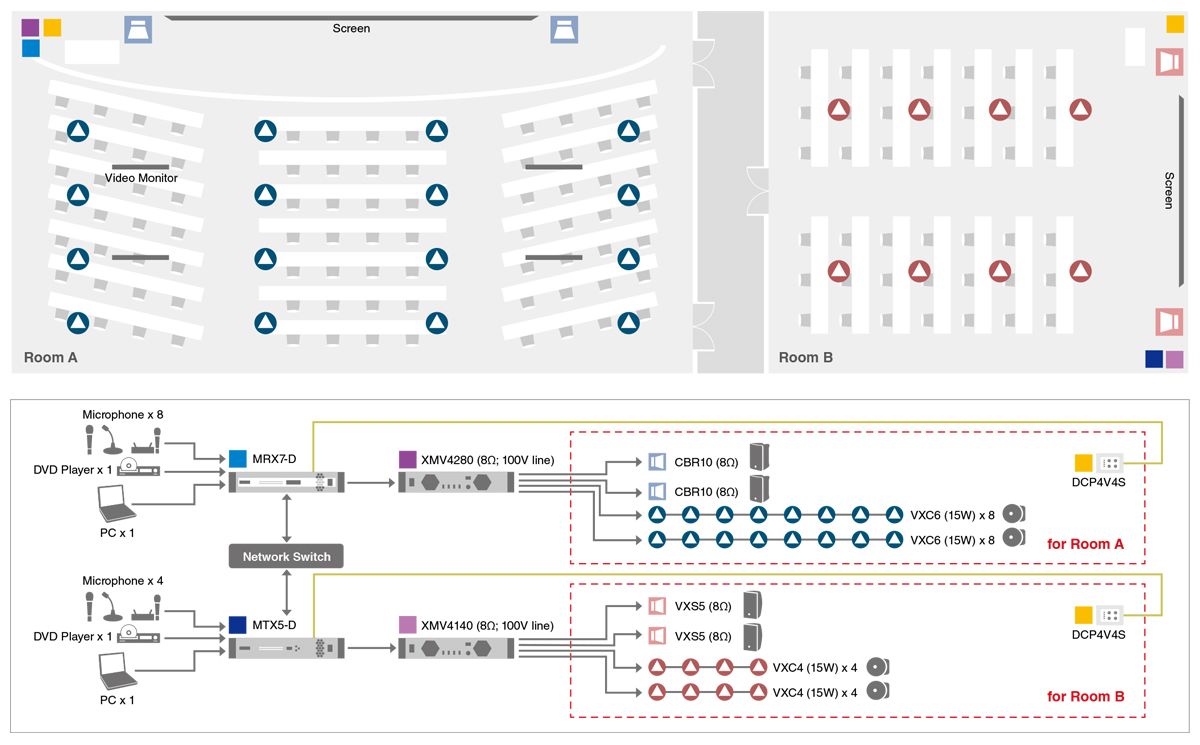 Dugan Automixer: Prevent feedback and unwanted pickup with multiple microphones
Dugan Automixer: Prevent feedback and unwanted pickup with multiple microphones
Feedback and unwanted noise pickup can be difficult to control at corporate meetings and panel discussions where multiple microphones are used, often resulting in impaired sound quality and intelligibility. The Dugan Automixer automatically increases the gain of microphones that are in use while reducing the gain of unused microphones. It also keeps track of the relationship between individual inputs and the overall input level to ensure ideally consistent mixer gain. A safe feedback margin and optimum signal-to-noise ratio are maintained at all times.
Dugan Automixer 1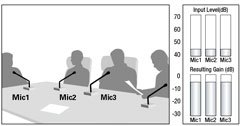 Quand personne ne parle dans les micros, le niveau d'entrée à tous les micros est faible et le gain est égal. Plutôt que d'être mis en sourdine (mute), le gain est réparti à part égale entre tous les micros.
Dugan Automixer 2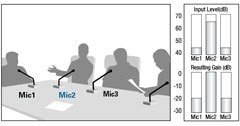 Lorsqu'une personne parle, le gain de ce micro est immédiatement augmenté à 0 dB alors que le gain des microphones restants est abaissé. La même chose se produit quand une autre personne parle.
Dugan Automixer 3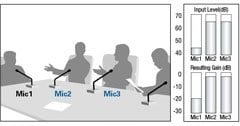 Si deux personnes parlent en même temps, la répartition du gain entre les micros actifs est ajustée pour obtenir un gain global cohérent, alors que le gain du microphone restant est minimisé.
MRX7-D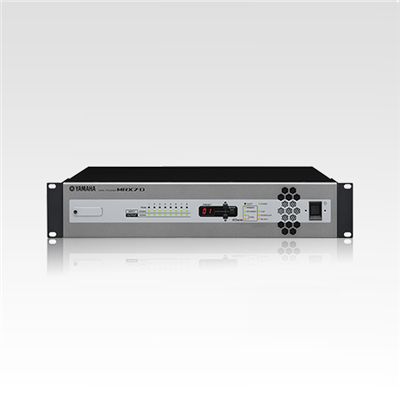 MRX7-D
Simple, flexible control for complex, high-capacity sound systems
MTX Series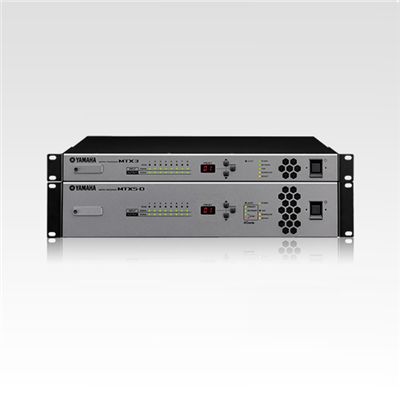 MTX Series
MTX Series matrix processors are equipped with flexible processing functions that are essential to a wide variety of applications.
XMV Series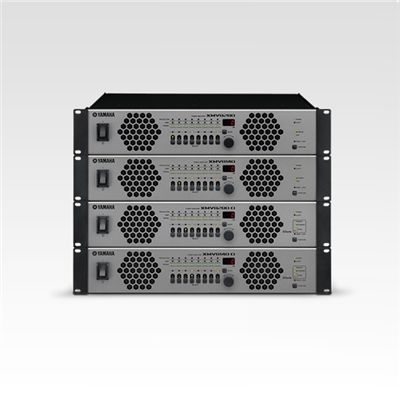 XMV Series
XMV Series multi-channel power amplifiers combine Class-D efficiency with features designed specifically to benefit commercial installation sound systems.
Série CBR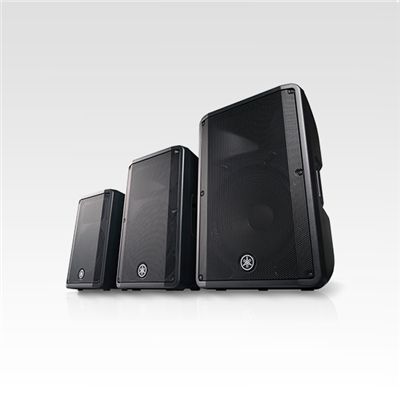 Série CBR
D'une grande polyvalence, les enceintes de la Série CBR proposent des performances audio exceptionnelles, dans une gamme étendue d'applications : sonorisation de façade, retours de scène, installation, etc.
VXS Series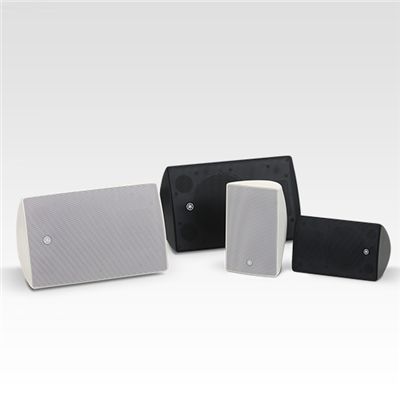 VXS Series
The VXS Series lineup features 2 models and 4 variations, allowing you to choose the optimal model for a particular application.
VXC Series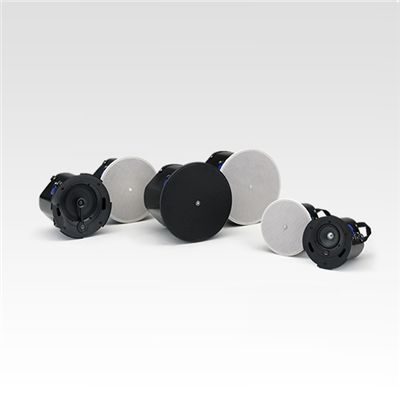 VXC Series
The VXC Series offers three different woofer sizes, allowing you to choose the speaker that is most suitable for your venue.