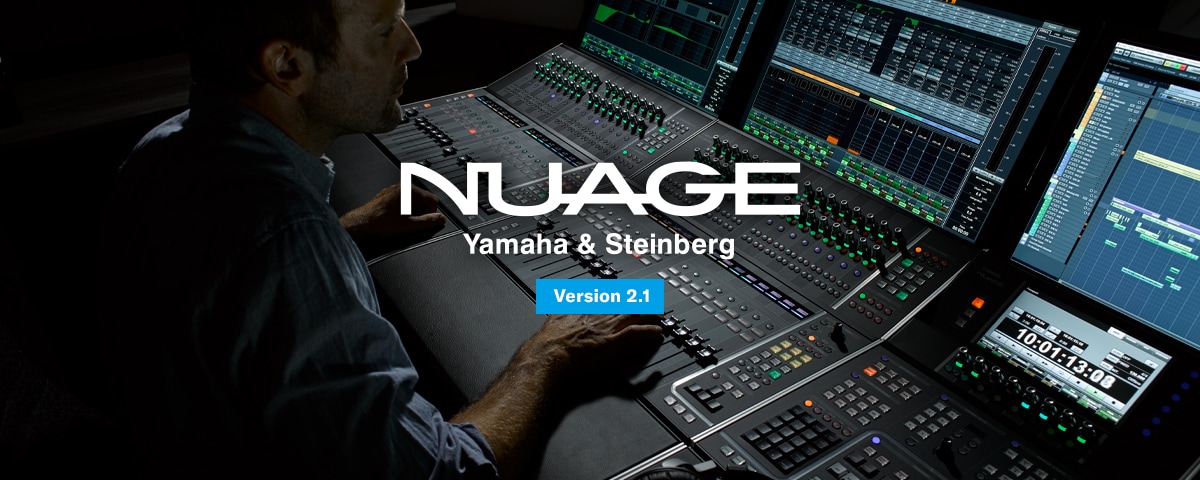 Un environnement de studio complet
Deux types d'éléments de surface de commande peuvent être utilisés individuellement ou en combinaison, en fonction des besoins du système. Trois types de haut de gamme interface audio sont disponibles, utilisables individuellement ou en combinaison selon les besoins: 16-canaux analogique, numérique à 16 canaux et 8 canaux analogique + numérique à 8 canaux.

Unités d'espace de travail pour un environnement simplifié et productif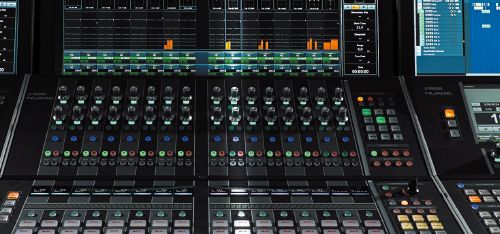 Nuage comprend des unités d'espace de travail qui s'intègrent parfaitement avec les unités de faders et l'unité master Nuage, ce qui permet d'installer un clavier, un surround panner, rack 19 pouces dispositifs de montage, et d'autres appareils nécessaires au workflow tout en conservant une ergonomie idéale et une cohérence visuelle et fonctionnelle. Deux unités d'espace de travail Nuage sont disponibles: un grand modèle qui est la même taille que l'unité fader Nuage, et un petit modèle qui peut être ajouté à une unité maître Nuage pour correspondre à la largeur d'un écran de 24 "".
Ultra-faible latence et une fiabilité sans faille avec un très grand nombre de canaux
La carte Dante Accelerator interface audio sera installée dans l'ordinateur exécutant le logiciel DAW Nuendo pour fournir avec une latence très faible jusqu'à 128 canaux audio simultanés et communiquer avec les interfaces d'entrées/sorties Nuage. La carte accélérateur Dante dispose également d'un port secondaire qui peut être utilisé pour fournir des connexions redondantes * pour une fiabilité accrue. * Disponible par une mise à jour du firmware prévue en été 2013

Prêt pour des projets multi-station ?
Avec un système Nuage, vous pouvez connecter un maximum de quatre stations de travail audionumériques* qui peuvent être mises en ligne individuellement à partir des commandes SELECT Nuage Fader DAW. Les différentes stations de travail audionumériques peuvent être situées dans des studios séparés (ou les salles des machines) où ils sont utilisés pour traiter des éléments distincts d'un grand projet, puis réunis au système Nuage pour l'assemblage final et l'édition. Et puisque Nuage comprend le contrôle HUI, il donne accès à une base HUI DAW compatible que vous voudrez peut-être utiliser comme un lecteur ou doubleur. * Jusqu'à trois DAW avec le firmware initial, jusqu'à quatre par une mise à jour du firmware ultérieure.

Le monde de la post-production audio dans un seul puissant package - NUENDO 6 -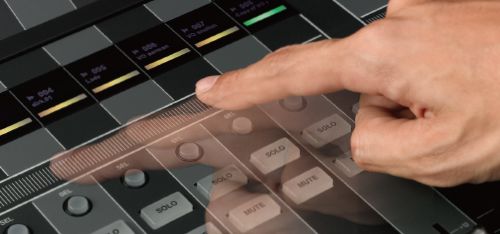 Maintenant que tout le monde est familier avec les trackpads d'ordinateur, le curseur tactile de Nuage sera évident. Il suffit de glisser un doigt le long de la bande de curseur tactile horizontale pour passer les canaux Nuendo à gauche ou à droite par rapport aux faders. Il existe également des dispositions de canaux personnalisables qui affichent des canaux importants sur la surface avec une seule pression sur un bouton. Verrouillage possible du bus master à la surface pour y accéder à tout moment.
Top 10 des caractéristiques de NUENDO
- Le plus adapté au monde de la post-production en environnement audio Une richesse de fonctionnalités pour la télévision, le cinéma, la publicité, les jeux, et de la production multimédia. - Nouvelle console de mixage révolutionnaire Un nouveau concept de fenêtre unique et une abondance de fonctions pour accélérer le flux de travail. - NUENDO 6 ADR Taker Une solution idéale pour l'enregistrement vocal et le doublage, ce qui rend superflu l'ADR externe. - Mesure de l'intensité entièrement intégré Une mesure conforme UER avec un large choix d'échelles de mesure RMS et volumes de voies dédié. - IOSONO Anymix Pro pour le surround La plus souple des panoramiques du monde ainsi qu'une haute qualité des algorithmes de mélange. - NUENDO 6 Channel Strip Amélioration du mixage avec un accès direct aux modules professionnels des tranches. - Courbe d'EQ Voxengo avec la technologie mise en correspondance sonore Amélioration du mixage avec un accès direct aux modules professionnels des tranches. - Steinberg ASIO Guard Nouvelles techniques de prévention des drop-outs augmentant la fiabilité de lecture. - Éditeur Remote Control Pour assigner des effets individuels et paramètres d'instruments à la surface de contrôle. - Pro Sound Effects : bibliothèque de post-production 1,5 Go d'effets sonores de haute qualité en 24 bits, bruitages d'animaux, guerre, etc.
Unité de synchronisation au timecode pour audio et vidéo - NUENDO SYNCSTATION -
Usinée avec précision dans un bloc d'acier inox, cette molette contribue réduire les efforts pendant les manœuvres habituelles de transport, rendant le travail d'édition fort agréable. La résolution est nettement supérieur à la moyenne, pour une précision inégalée dans le contrôle de la lecture avant et arrière à une vitesse maximale de 8x, scrubbing, sélection de la plage, zoom, fondus, et plus encore.

Powerful ADR Tools Built In
The Nuage system is packed with essential audio production features, and the facilities provided for dubbing and Foley are second to none. Operating in concert with Nuendo, an ADR Status Indicator shows the Rehearse/Record/Review status of actors in the video window, a Free Run Mode allows simultaneous recording of multiple scenes, and an ADR Take List enables easy management of takes. These and other features can be a huge advantage in demanding post-production environments. *ADR mode is only available when using Nuendo. *Panel shown with custom overlay sheet attached.

Advanced Automation Control
Nuage provides a complete duplicate of the Nuendo/Cubase Automation Panel where all automation settings can be managed as a group, with full access from the Nuage Master unit Multi Function Display. It is also possible to select the automation punch-out mode (Touch, Auto-latch, Cross-over) and the post punch-out behavior (Fill to Punch, Fill to Start, Fill to End) from the Nuage controls. Of course automation read and write buttons are provided on each channel strip, adding to the system's overall automation convenience and flexibility.

"Control Room" Enables Large Studio Style Monitoring and Communication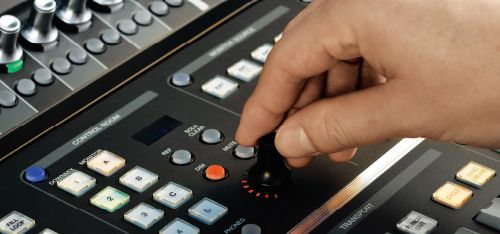 The Nuendo/Cubase Control Room feature replicates large-console monitoring facilities in software. Control Room is faithfully recreated on the Nuage Master panel, providing a full-function monitoring and communication environment without having to add extra equipment.
Control Room
- Up to four different monitor environments with different speaker configurations. - MIX, EXTERNAL INPUT, and CUE 1-4 monitor source selection. - Eight input/output buses can be registered and switched for the MIX source. - Six external sources can be registered and switched for the EXTERNAL INPUT source. - Talkback channel and headphone output included. - Level display can be switched between the Nuendo/Cubase level (dB) and SPL.
Section users assignables
Every engineer has his or her own way of approaching the editing process, and every application presents different challenges. The Nuage Master unit features a "User Assignable Section" with controls that can be customized by the operator to provide direct access to the functions and parameters needed for the task at hand. Functions that need to be performed repeatedly, such as importing audio files, for example, can be assigned for one-button efficiency. 12 hardware user assignable buttons and 96 soft keys (24 x 4 banks) provide plenty of capacity.

Fully Ready for Pro Tools Control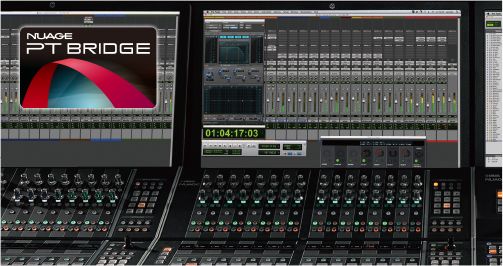 Although Nuage is primarily designed to work with a Steinberg Nuendo or Cubase DAW, the NUAGE PT Bridge driver allows efficient operation with Avid Pro Tools as well.* In addition to basic DAW control, it is possible to control plug-ins and assign shortcut keys to the Nuage user assignable buttons. Pro Tools can be implemented as the system's main DAW, or Nuendo can be the main DAW with Pro Tools also available to open and edit previously created Pro Tools sessions or accommodate outside engineers who bring in Pro Tools sessions. *As of July 2015 compatibility is provided with Mac OS editions of Pro Tools 10 through 12 and Pro Tools HD 10 through 12. *Nuendo or Cubase must be assigned as DAW A. Up to two Pro Tools instances can be simultaneously used per system. *Refer to the Nuage owner's manual for information on Pro Tools parameters that can be controlled from Nuage.
Ideal Environment for Dolby Atmos Mixing
Nuage provides full support for the VST MultiPanner 3D surround plug-in included with Steinberg's Nuendo. The VST MultiPanner interface is faithfully reproduced on the Nuage Master touch screen, providing an ideal environment for Dolby Atmos surround production and bringing Nuage up to speed with today's fastest-growing immersive surround format.
VST MultiPanner makes it possible to work on a 9.1 channel bed mix and an object mix with up to 118 audio objects via a single display. As a project progresses the operator can switch between bed and object modes without having to redo the panning. Top View and Rear View displays make it easy to visualize the positions of audio images within the sound stage in three dimensions. A comprehensive selection of panning trajectory presets is also provided for smooth, efficient sound design. Experience the cutting edge of 3D audio.
Enhanced Monitor Control
Nuage supports remote control of Yamaha's MMP1 Studio Monitor Management System so that source selection, levels, downmix and dimmer switching, talkback, and other functions can be controlled directly from physical controls on a Nuage Master or Nuage Fader unit. And because these functions can be accessed even when there is no computer or DAW online, monitor section operation is as direct and immediate as on a mixing console.
Refined Exterior Design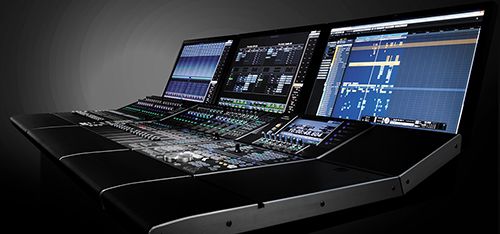 The Nuage development team believes that a great console needs to offer more than features and functionality. It must also have sophisticated visual appeal that, as the centerpiece of the studio, will add a touch of class to the environment . That "atmosphere" is important whether a client is in the room or a creator is working long hours alone. The elegantly reserved design of the Nuage system expresses its advanced capabilities while solidly anchoring the visual space. Several product design awards from around the globe attest to its success.
NUAGE WORKSPACE for a streamlined and productive working environment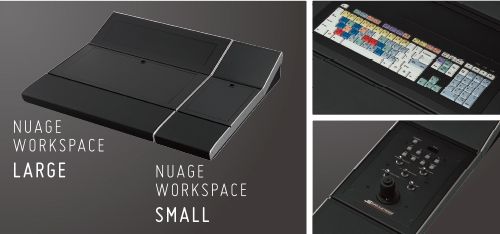 Nuage Workspace units feature dimensions and design that are a perfect match for the Nuage Fader and Nuage Master units, allowing a keyboard, surround panner, 19" rack mount devices, and other custom extras to be added to a Nuage system while maintaining overall workflow and visual unity. Two Nuage Workspace units are available: a large model that is the same size as the Nuage fader unit, and a small model that can be added to a Nuage Master unit to match the width of a standard 24" monitor display. The palm rests on the Nuage Fader unit and large Nuage Workspace unit include a compartment that can house a computer keyboard.
* The photo shows a custom installation.
Every Function within Easy Reach - Ergonomically refined layout supports your workflow -
[NUAGE FADER]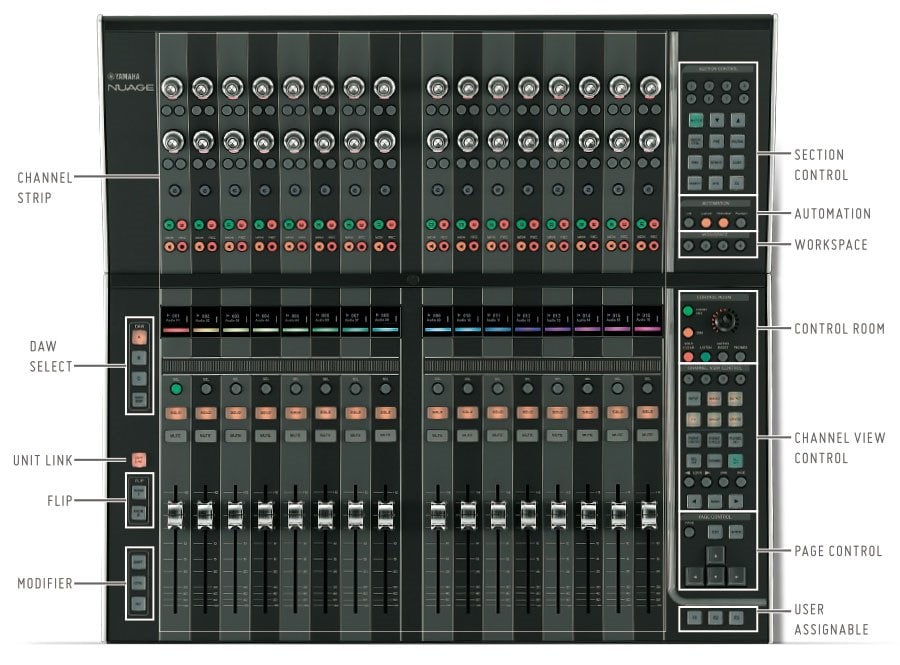 [AUTOMATION] : Provides access to automation functions.
[CHANNEL STRIP] : Each channel strip has a touch-sensitive 100mm motor fader, two multi-function knobs, and a channel name/icon/color display.
[CHANNEL VIEW CONTROL] : Selects the channel category to be controlled by the panel faders.
[CONTROL ROOM] : Allows operation of the Nuendo/Cubase Control Room feature for monitor and communication control.
[DAW SELECT] : Selects between up to three connected DAWs.
[FLIP] : Allows the parameters assigned to the knobs to be controlled via the faders.
[PAGE CONTROL] : Controls display cursor movement and screen switching.
[SECTION CONTROL] : Selects the parameters to be controlled by the multi-function knobs.
[UNIT LINK] : Links or separates operation of up to three units.
[USER ASSIGNABLE] : Allows unrestricted shortcut assignment.
[WORKSPACE] : Recalls pre-programmed DAW window layouts.
[NUAGE MASTER]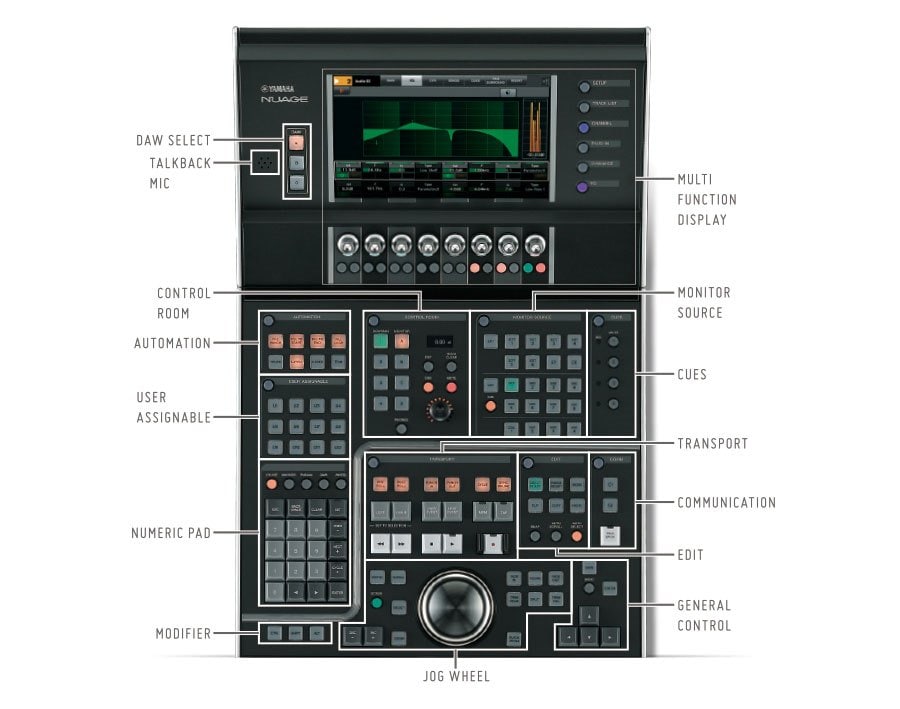 [AUTOMATION] : Provides access to automation functions.
[COMMUNICATION] : Assignment and control of the Control Room talkback function.
[CONTROL ROOM] : Links to the Nuendo/Cubase Control Room feature, allowing switching between monitor speakers, downmixes, and more.
[CUES] : Switches Control Room cues 1-4 on or off.
[DAW SELECT] : Selects between up to three connected DAWs.
[EDIT] : Allows object/region selection, copy/paste editing, and more.
[GENERAL CONTROL] : Project file save, cursor movement, and other operations.
[JOG WHEEL] : Six modes and seven functions control a wide range of parameters.
[MONITOR SOURCE] : Switches Control Room sources (8 x EXTERNAL INPUT, 8 x MIX, 4 x CUE).
[MULTI FUNCTION DISPLAY] : Touch screen and knob provide access to all major parameters and operations.
[NUMERIC PAD] : Switches between six modes, allows numeric cursor and marker position entry, and more.
[TRANSPORT] : Transport control, punch in/out, and project window recall.
[USER ASSIGNABLE] : Assigns shortcuts to the 12 user assignable buttons.
Traitement DSP Surround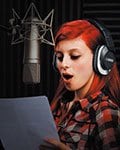 La capacité de traitement Surround est importante dans tout système de post-production qui doit traiter une grande variété de projets. Le système Nuage comprent tous les éléments essentiels pour le surround, y compris les réglages des délais pour les enceintes de monitoring et la gestion des basses (bass management).
Architecture modulaire flexible et réseau audio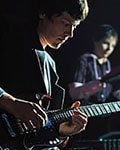 Avec une architecture modulaire qui permet de combiner les composants dont vous avez besoin idéalement, en plus de l'audio en réseau qui vous permet d'installer votre système pour correspondre aux infrastructures disponibles , Nuage offre une flexibilité et une évolutivité exceptionnelle.