Outdoor Stages [Mid-size]
PA system that features a versatile digital mixer with an intuitive interface and enough power for live band performance on a mid-sized outdoor stage for an audience of up to 300 people depending on seating/venue size.
- The system consists of a digital mixing console, 2x main loudspeakers, 2x subwoofers and 6x monitors.
- Digital mixer's intuitive user interface optimized for touch panel operation. [Mixing console TF5]
- Wireless mixing with iPad app TF StageMix™, allows remote mixing from audience seating, in front of floor monitors, or any other listening position. [Mixing console TF5]
- Versatile multi-purpose 2-way active loudspeaker system featuring DCONTOUR intelligent dynamic control feature for consistent clarity at any output level. [Powered loudspeaker DSR115]
- Powerful 18" subwoofers indispensable for enhancing very low frequency bass audio reproduction. [Powered subwoofer DXS18]
| Category | Model Name | Qty |
| --- | --- | --- |
| Mixing Console | TF5 | 1 |
| Power Amplifier | - | - |
| Main Speaker | DSR115(Powered Speaker) | 2 |
| Subwoofer | DXS18(Powered Speaker) | 2 |
| Monitor Speaker | DBR12(Powered Speaker) | 7 |
System
QuickPro Presets™ Provide Instant Access to Pro Sound Setups
The Yamaha R&D team developed a selection of optimized QuickPro Presets™ for a wide variety of microphones and output equipment by working in collaboration with well-respected engineers and major manufacturers such as Audio-Technica, Sennheiser, Shure and Ultimate Ears. With these practical presets even the novice engineer can get very close to the ideal sound, while experienced engineers will appreciate the significant time savings. For input channels we prepared more than 100 presets that range from vocals to drum sets. All the presets were precisely tuned by using a wide range of actual microphones, instruments. For output channels we developed presets for a variety of speaker systems and in-ear monitors such as Ultimate Ears with several variations to match different environments and room sizes. All of these can be used as is when time is tight, but they are also great starting points for manual fine tuning. Setups created from the presets or from scratch can be saved as additional presets too. The 1-knob EQ and 1-knob COMP can be used with QuickPro Presets™ providing a super-streamlined way to tweak your sound. In addition to the onboard presets, new QuickPro Presets™ will be added to the Yamaha Pro Audio website, so be sure to check for updates.
Intelligent Dynamic Control
D-CONTOUR is a multi-band dynamic processor featuring intelligent sensing. Normally a compressor is used to boost SPL, but this would effect the entire audio bandwidth resulting in a constricted feel to the sound. D-CONTOUR works by constantly monitoring the output of multiple frequency bands, feeding the data back into the intelligent sensing system. This system then calculates the optimum EQ adjustments for each frequency band, resulting in maximum SPL while maintaining musicality. These EQ adjustments are performed in a highly intelligent manner, linked directly to the auditory response of the human ear. Hence the DSR Series can continuously deliver sound that is natural, clear and powerful - regardless of volume. D-CONTOUR can be turned on or off depending on the acoustic environment and type of sound desired.
Functional Speaker Cover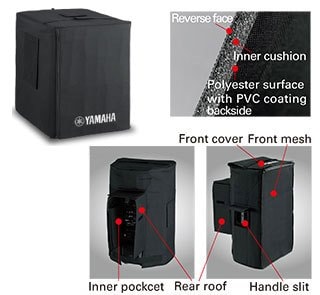 The functional speaker covers that protect your speakers from unfavorable weather conditions during outdoor performances, dusty and dirty warehouse storage, or the rigors of equipment transport on the road.
*NOTE: The covers do NOT guarantee water-drip protection.
TF5
33 motor faders (32 channels + 1 master)
48 input mixing channels (40 mono + 2 stereo + 2 return)
20 Aux (8 mono + 6 stereo) + Stereo + Sub buses
8 DCA groups with Roll-out
32 analog XLR/TRS combo mic/line inputs + 2 analog RCA pin stereo line inputs
16 analog XLR outputs
34 x 34 digital record/playback channels via USB 2.0 + 2 x 2 via a USB storage device
8 Effects and 10 GEQ
QuickPro Presets™ Provide Instant Access to Pro Sound Setups
1-knob COMP™ & 1-knob EQ™: One Knob to Dial In the Ideal Sound
DSR115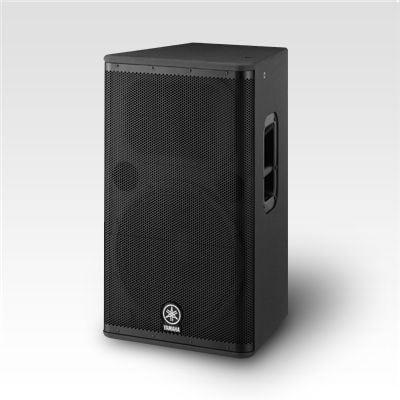 15" 2-way powered loudspeaker
1500W Class-D amplifiers
Maximum 136dB SPL (peak)
D-CONTOUR multi band dynamic processor
Compact and lightweight (28.0kg / 62lbs)
Durable wood enclosure with LINE-X® finish
Stand and pole mountable, with 35mm pole sockets
Integrated M10 rigging points for suspended applications
DXS18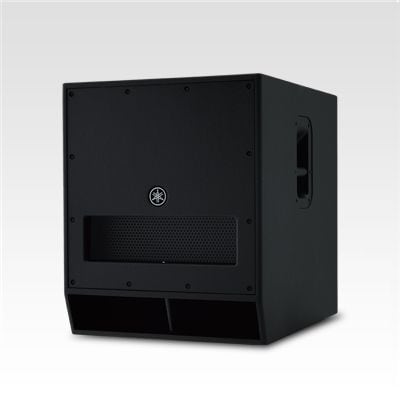 18" powered subwoofer
1020W Class-D amplifiers
Maximum 136dB SPL (peak)
Frequency Range 32Hz-120Hz
D-XSUB Bass Processing
Cardioid Mode for low frequency control
Compact and lightweight (49.7kg / 110lbs)
Durable Plywood enclosure with LINE-X® finish
35mm and M20 Dual Pole Socket
Optional Speaker Cover (SPCVR-18S01)
DBR12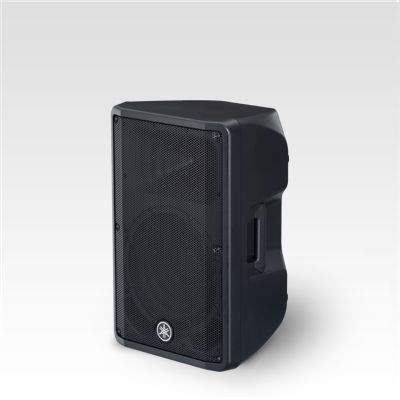 12" 2-way powered loudspeaker
1000W Class-D amplifiers
Maximum 131dB SPL (peak)
D-CONTOUR multi band dynamic processor
Easy-to-use Onboard 2-Channel Mixer
Compact and lightweight (15.8kg / 34.8lbs) with durable Plastic enchosures
Floor monitor angle
35mm Pole Mount Socket
Integrated M8 rigging points for suspended applications
Optional Brackets (BBS251, BCS251, BWS215-300, BWS251-400) and Speaker Cover (SPCVR-1201)
PA Application Guide | Yamaha Commercial Audio