Conference room : Medium#1
High quality audio for presentations
To ensure that attendees seated at the back of the room can hear presentations clearly, multiple rows of speakers are provided, with independent volume control for each row. Delay processing is also provided to compensate for the natural delay that can degrade clarity in larger rooms like this, so that people in the back hear sound that is as clear and intelligible as it is at the front of the room.
An MTX matrix processor provides a number of useful conference functions, including a Feedback Suppressor that automatically detects and eliminates acoustic feedback.
General processing can be set up during installation, and daily operations such as volume adjustment can be carried out via convenient DCP control panels.
The multi-channel XMV is ideally suited to zoned applications, with multiple outputs that can deliver independently processed signals to each zone.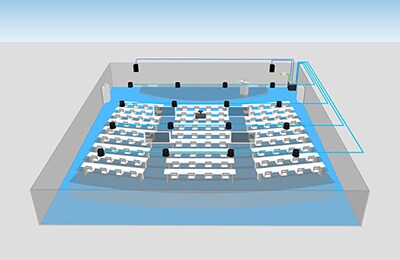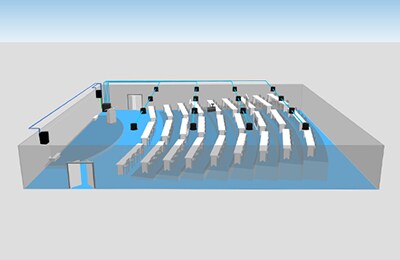 System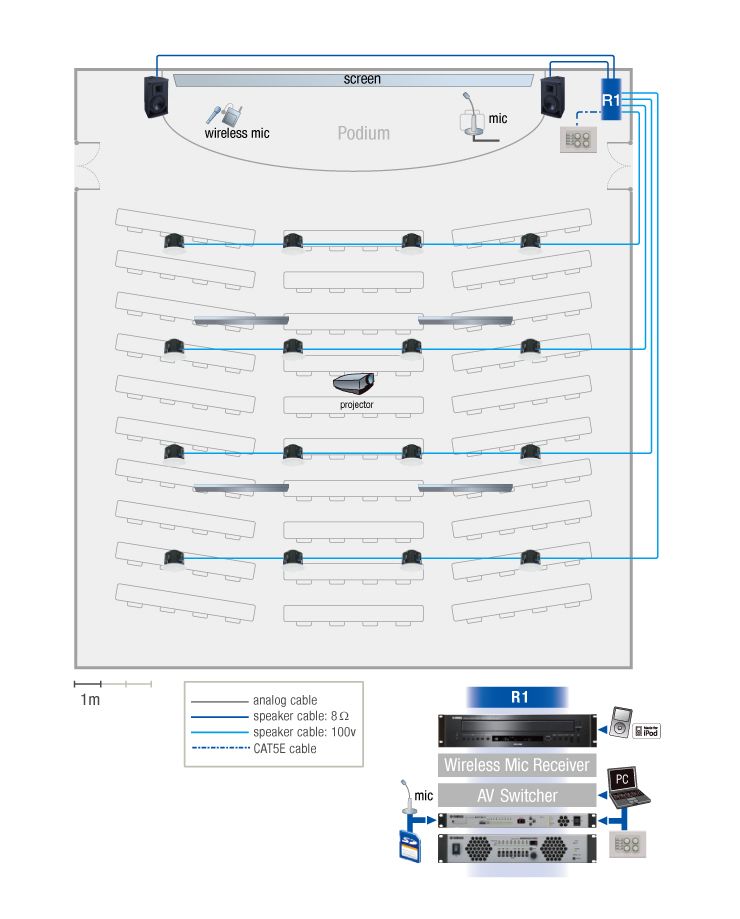 Components List
| | | | | | | |
| --- | --- | --- | --- | --- | --- | --- |
| Model | VXC6 ceiling speaker | IF2108 speaker | DCP4V4S controller | XMV8140 amplifier | MTX3 matrix | CD-C600RK CD player |
| Qty | 16 | 2 | 1 | 1 | 1 | 1 |
| | | | | | | |
Cable List
| | | | | |
| --- | --- | --- | --- | --- |
| Name | Analog Cable | Speaker Cable: 8Ω | Speaker Cable: 100V | CAT5E cable |
| Length | 10m | 30m | 70m | 10m |