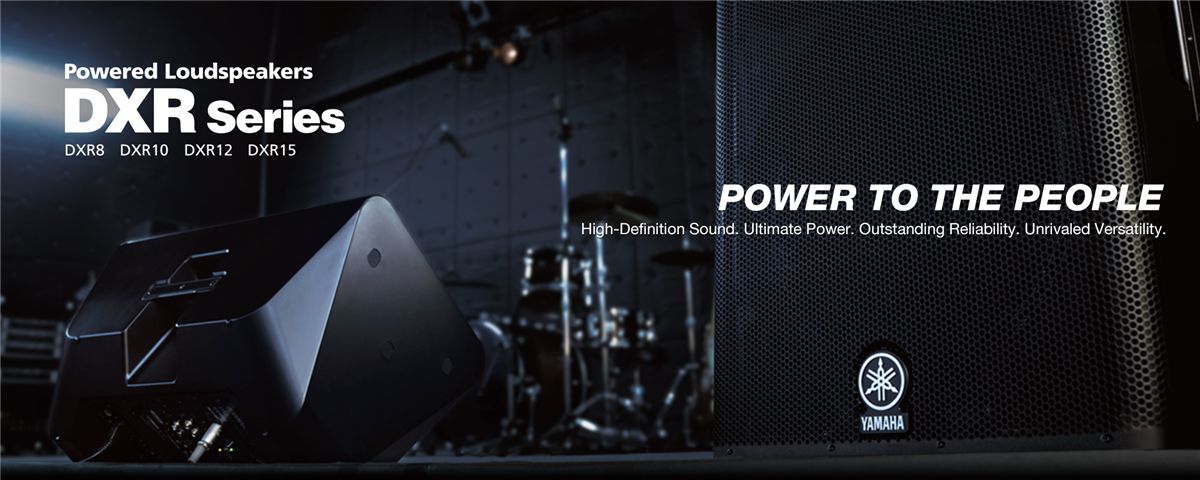 Louder, Lighter, Legendary
Since its inception, the DXR Series has long signified a confluence of raw power and technological innovation that reliably harnesses and delivers impressively high output with superior quality and clarity. The DXR mkII Series powered loudspeakers are the newly upgraded models of the series that add even more SPL and feature a larger, yet much lighter 1.75" Neodymium HF compression driver for extremely clear voice reproduction and musicality. Once again our team worked in tight collaboration with touring loudspeaker specialists NEXO, adding crucial insight and expertise that led to design improvements based on the ever-evolving demands of sound reinforcement professionals.
Whether for fixed applications or mobile live performances - whatever direction you want to take your sound - the DXR mkII Series is up to the task, combining raw power with our own proprietary advanced DSP functions for all the reliability and outstanding clarity you've come to expect from the DXR Series… only MORE.
DXR15mkII

15" 2-way Powered Loudspeaker Nouveau
The DXR15mkII achieves class-leading maximum SPL of 134dB and full bandwidth performance by combining a powerful Class-D amplifier with a high-power woofer and Yamaha's cutting edge technologies. Throw in some D-CONTOUR and you'll feel like you're using a subwoofer.
DXR12mkII

12" 2-way Powered Loudspeaker Nouveau
The DXR12mkII is an extremely high-power loudspeaker that is capable of producing a maximum SPL of 134dB with its impressive 1100W of power. It is the perfect solution for live sound applications that demand wide bandwidth and extremely high-resolution sound.
DXR10mkII

10" 2-way Powered Loudspeaker Nouveau
Portable, yet capable of producing an astonishing 132 dB SPL, the DXR10mkII's compact, functional design makes it ideal for a wide range of applications. Whether providing simple vocal/instrument amplification, very powerful floor monitoring or comprising a compact SR system - the DXR10mkII delivers without compromising sound quality and power.
DXR8mkII

8" 2-way Powered Loudspeaker Nouveau
The most compact of the DXR mkII Series speakers, the DXR8mkII makes the most of its 1100W of power, delivering extremely high output while maintaining outstanding resolution. Adding a DXS12mkII subwoofer gives you an ultra-compact high-power SR system.
DXR15
Enceinte active 15" deux voies
La DXR15 offre : pression acoustique, précision, réponse en fréquence étendue, amplification classe D. Grâce au circuit DSP D-CONTOUR, un caisson de grave devint superflu...
DXR12
Enceinte active 12" 2 voies
La DXR12 est une enceinte comprenant une amplification très puissante de 1100W, capable de délivrer jusqu'à 132 dB SPL. C'est une solution parfaite pour les applications de musique live qui nécessitent une large bande de fréquences et une excellente résolution sonore.
DXR10
Enceinte active deux voies 10"
Aisément transportable, compacte, capable de délivrer une pression de 131 dB SPL, la DXR10 est parfaite pour un grand nombre d'applications de sonorisation mobile ou fixe, que ce soit pour amplifier la voix, les instruments, ou comme retour de scène.
DXR8
Enceinte active 8" 2 voies
Modèle compact de la série DXR, la DXR8 utilise le meilleur de sa puissance de 1100W et délivre un niveau sonore extrêmement élevé tout en garantissant une définition impressionnante. En ajoutant un caisson de graves DXS12, vous pouvez constituer un ensemble complet ultra compact pour des applications musicales variées.
La parfaite reproduction et concordance des couleurs affichées sur ce site ne peut être garantie par Yamaha.