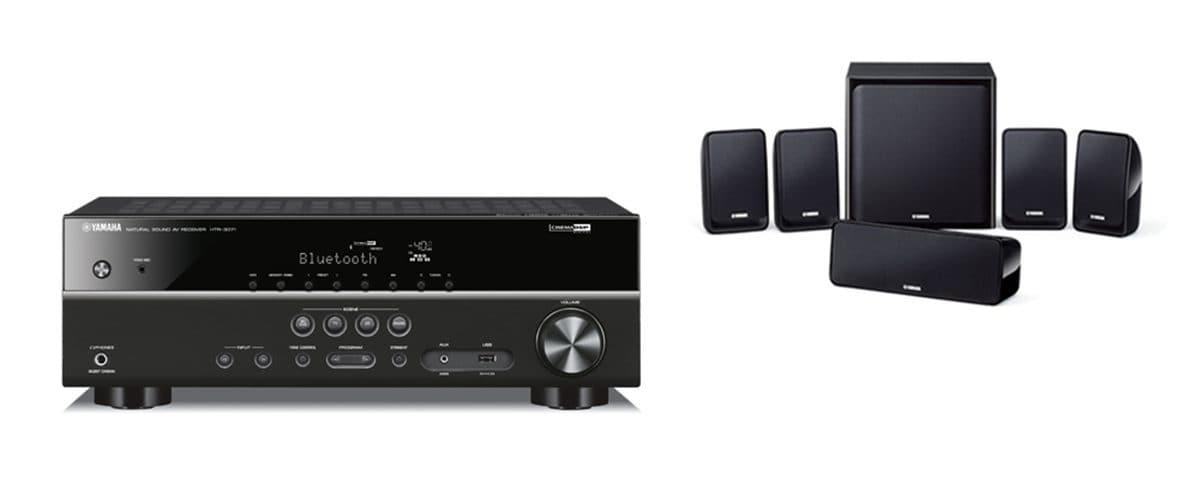 4K Ultra HD Full Support with 4K / 60p, HDCP2.2, HDR Video Including Dolby Vision and Hybrid Log-Gamma, and BT.2020 Pass-through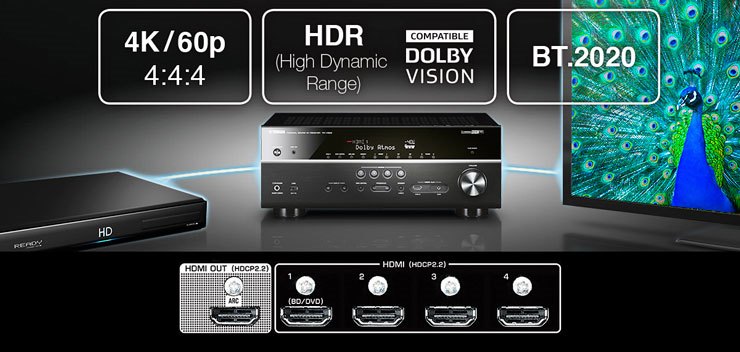 This AV receiver completely supports with latest HDMI® standards. Thanks to transmission of 4K video at 60 frames per second pass-through, you can fully enjoy the high definition video quality of 4K without degradation. It also adheres to the HDCP2.2 copyright protection standard for 4K video transmission. It also supports HDR (High Dynamic Range) Video including Dolby Vision and Hybrid Log-Gamma which provides incredible contrast, smooth tone and rich, bright colours. Furthermore it supports the wider colour gamut of BT.2020 pass-through. This AV receiver is also compatible with 3D, Audio Return Channel and CEC for easy operation.
*Dolby Vision and Hybrid Log-Gamma will be available via future firmware update.
AV Setup Guide App Makes System Setup Easier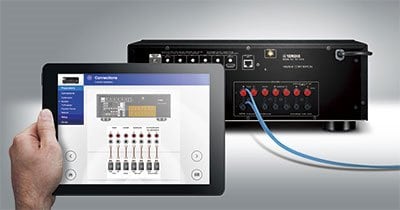 AV Setup Guide is an app that makes it much easier to perform receiver setup, and also assists you with cable connections between the AV receiver and source devices. It guides you through various settings such as speaker connections, TV and source device connections and power amp assignment. System illustrations and actual AV receiver images help you understand how to make the connections between devices, for much quicker system setup. It is available in multiple languages. Designed for iOS and Android tablet.
Bluetooth Output for Convenient Music Streaming

The HTR-3071 is equipped with the latest Bluetooth technology, making wireless operation more convenient than ever. You can stream music from the HTR-3071 to Bluetooth headphones for private listening or to Bluetooth speakers.
Bluetooth®-Compatible for Wireless Music Streaming
This AV receiver is equipped with Bluetooth functionality to let you enjoy easy wireless music playback from smartphones and other devices. The Compressed Music Enhancer from Yamaha is now optimised for Bluetooth audio transmissions to ensure that your music will have vivid, lively sound quality during wireless playback.
ECO mode Lowers Power Consumption by 20%*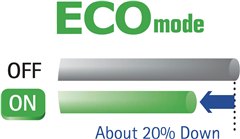 Yamaha's new ECO mode reduces power consumption by about 20%. It can be set from the top of the GUI menu.
*Compared to power consumption when ECO mode is off (Yamaha measurement).
Pack home cinéma 5.1 canaux
Ces enceintes parfaitement dimensionnées produisent un son riche et équilibré. Abordable et de très bonne qualité, le modèle NS-P40 constitue un excellent choix pour configurer un système de home cinéma.
Technologie Yamaha ""Advanced YST""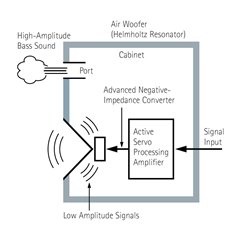 La technologie exclusive Advanced YST (Advanced Active Servo Technology) de Yamaha permet d'obtenir des basses exceptionnelles avec des enceintes compactes. Cette technologie combine de façon optimale les capacités des ampli-tuners et des enceintes. Un convertisseur d'impédance négative sophistiqué ajuste de façon intelligente l'impédance négative générée par l'enceinte, créant ainsi un cône robuste qui empêche les ondes riches et puissantes de s'échapper du cône. Ainsi vous pouvez exploiter toute la puissance de chaque onde, et vous obtenez des basses nettes et profondes.
Un design incurvé pour un intérieur élégant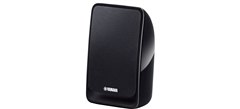 The surround speakers have a curved shape that blends nicely with any interior. They are just the right size for good sound
quality and convenient placement in almost any location.
Port linéaire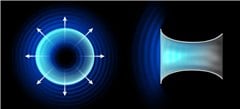 Le port linéaire contribue à assurer une réponse fluide des basses, tout en réduisant les bruits parasites.
Possibilité de montage mural (enceintes avant, centrale et surround)
Ces enceintes sont dotées d'encoches à l'arrière, pour un montage mural aisé.