Room partitions and control panels for eight zones
A notable feature of this system is that it serves a room that can be used as single large space or partitioned to function as multiple smaller spaces. The system can be set up to allow independent source selection and volume control for each partition, or the same source can be fed to all speakers when the entire room is used. In addition to the main room with partitions, separate controllers installed in several smaller rooms allow independent volume adjustment for those rooms as well.
An MTX matrix processor makes it easy to switch to different audio configurations when the main room is partitioned or combined.
Day-to-day source selection and volume adjustment can be easily carried out via DCP control panels.
Yamaha CIS speaker systems are specifically tuned for music reproduction so that the same excellent sound quality is achieved whether used for low-volume BGM or louder featured music.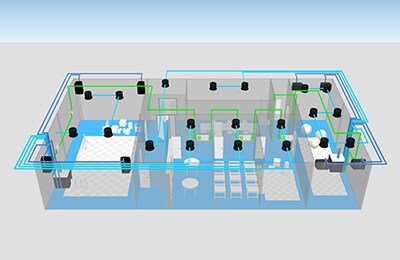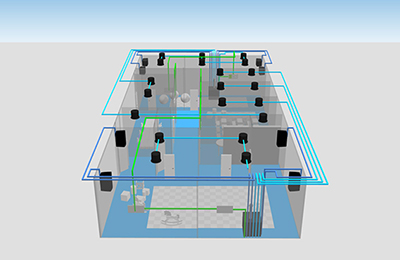 System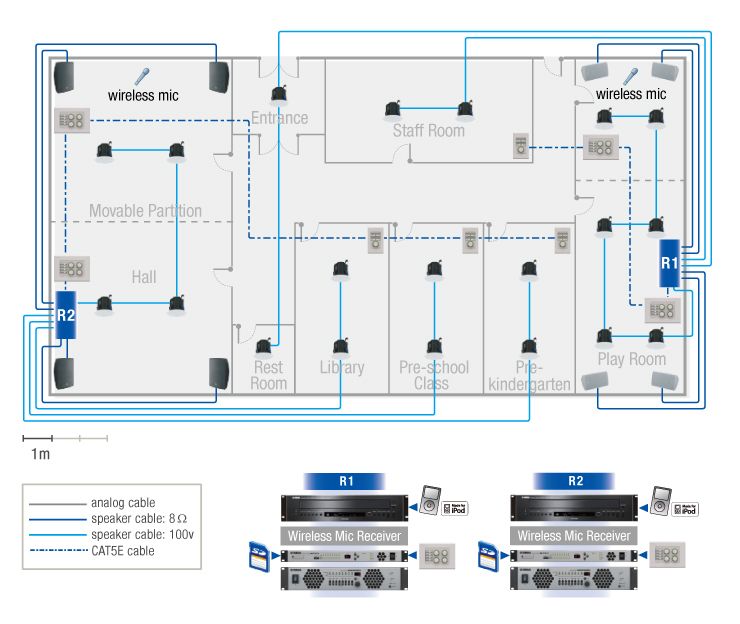 Components List
| | | | | | | |
| --- | --- | --- | --- | --- | --- | --- |
| Model | VXC4 ceiling speaker | VXS8 speaker | VXS5 speaker | DCP1V4S controller | DCP4V4S controller | MTX3 matrix |
| Qty | 20 | 4 | 4 | 4 | 4 | 2 |
| | | | | | | |
| Model | XMV8140 amplifier | CD-C600RK CD playe | | | | |
| Qty | 2 | 2 | | | | |
| | | | | | | |
Cable List
| | | | | |
| --- | --- | --- | --- | --- |
| Name | Analog Cable | Speaker Cable: 8Ω | Speaker Cable: 100V | CAT5E cable |
| Length | 10m | 130m | 215m | 85m |